Therapists Who Care
Our Massage Therapists are caring and attentive, always responsive to the needs of the individual patient. As hands-on medical professionals, we know the human body, and how to provide pain relief and better mobility to our patients.
Margaret Magee, R.N., L.M.T, Founder & Owner
At the uniquely young age of 19, Margaret became an LPN, a Licensed Practical Nurse, inclined as she was to help and heal people. After several years, when an endless stream of patients became more room numbers than individual people, she reignited her passion for one-on-one care as a home health aide. Over time, despite the individual attention to people who clearly needed her support, she felt drawn to a wider, more holistic approach to healing.
So in 2001, Margaret became a Licensed Massage Therapist (LMT). This literal hands-on form of treatment and care was appealing to her, and so she dove in with all her energy and attention. Starting with just a home office and a few clients, today her Massage for Life has expanded to two locations and six additional massage therapists. This Nurse and Massage Therapist states: "It is always a plus to have passion for your work. Better still is to work at your passion. My passion has been to help people, specifically to help people heal, and lead healthier, happier lives." Now, over 20 years later, Margaret oversees the business, and while she no longer sees patients, she makes sure all Massage for Life patients receive the very best treatment and care.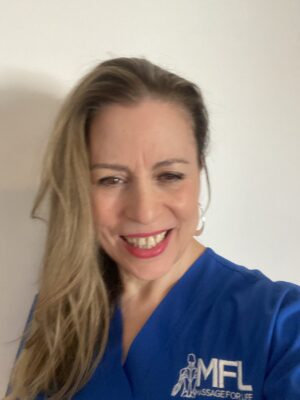 Barbara McGarvey, L.M.T.
Barbara graduated from New York College of Health Professions in 2018 with an associates degree in Occupational Therapy. Board Certified in Therapeutic massage and bodywork. LBCTM . volunteers for nurses and teachers week. Has worked with Ride to Montauk, Cyclist doing sports massage.
Her specialties include Active Isolated Stretching (AIS), Sports Massage. Myofascial release, and trigger point therapy.
She is also certified in Pre-natal massage and the Garston Technique.
She is specific and detail oriented in her approach.
Her personal mission is to provide each client a tailored treatment to improve their pain, tension and overall energy levels.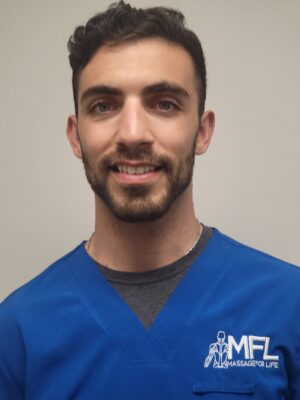 Tyler Portelli, L.M.T.
Tyler Portelli is a goal-oriented person, and so his massage technique is, too. He likes seeing positive results.
Tyler says he sought out massage therapy as a career because for quite a long time he wanted to be a physical therapist, and was eager to begin work in the field. After graduating from Queensborough Community College, he became an LMT in 2016. But Tyler also has larger goals. So he is currently enrolled in school to become a fully certified athletic trainer; scheduled to graduate in the spring of 2022. His massage style is not only goal-oriented, it is medically based. Tyler incorporates a thorough knowledge of anatomy and the physiological processes of the human body to help his clients to achieve measurable outcomes, and significant healing
He employs multiple manual therapies to address a variety of musculoskeletal complaints. He especially enjoys sports massage and sports rehabilitation work, along with injury prevention. Taping, Bracing, and utilizing the Graston technique to treat soft tissue injuries are among his favorite modalities.
Outside of his massage and physical rehabilitation work, Tyler is also a radio operator with the Marine Corps Reserve. He enjoys spending time at the gym for a good workout, as well as quality time with family.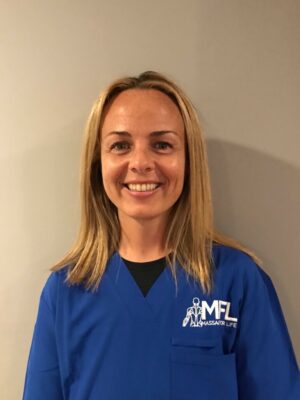 Danielle Roche, L.M.T.
Danielle Roche appreciates the joys, and wonderful mechanics, of the human body.
Graduating from Quinnipiac University with a degree in Mass Communications/ Video Production, Danielle's move to massage therapy came from a desire to do more, and make a difference by helping people one on one. She went on to receive her license for Massage Therapy from New York College of Health Professionals. Today, she has 6 years of hands-on experience, doing just that — helping, tending to, and healing people
Danielle's massages will relax your muscles and melt away stress with myofascial release and activated release techniques. When muscles are more relaxed, the body is often able to shift energy to the areas that need the most healing, expediting the recovery process.
In her free time, you can find her riding her bike or hiking with her dog. She also enjoys lifting weights. Not surprisingly, while she'll provide massage to anyone who needs it, she enjoys working with clients who are athletic and health conscious. Danielle feels like her own physical activities helps her to understand the human body that much better; as well as giving her strong, attentive hands that can work her healing magic.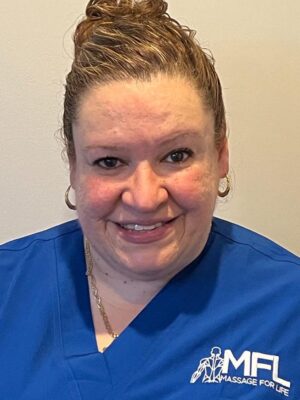 Amalia Rentas-Schoop, L.M.T.
Amalia Rentas-Schoop used her own serious injury, and the healing process, as a motivation to help others heal, and live a fuller life.
Amalia graduated from the Swedish Institute in Manhattan in 2000. Her first job after school was assisting chiropractors in their work. In 2001, she began her work in massage. Her favorite massage techniques are Swedish, medical and deep tissue, along with trigger point and shiatsu.
Now, 20 years later, she has learned to customize her techniques around the client's individual needs. She's been told she has a nurturing, intuitive style of hands-on healing. Amalia believes this is because of her acquired knowledge of the human body and its systems.
Years ago, a devastating back injury took Amalia out of the fashion industry, and sent her on a healing journey. She sought help from various sources: chiropractors, physical therapists, and massage therapists. Her appreciation of the many benefits of therapeutic touch inspired her to enter the massage field. To this day, Amalia enjoys being able to bring this healing power full-circle with her own clients. Seeing people transform and start to heal is deeply fulfilling to her.
In her free time, Amalia is educating herself on political and global events, as well as scientific advances, like the new, recently launched Webb telescope. Herbalism, essential oils, and various forms of spirituality are also satisfying, and enlivening, pursuits for Amalia.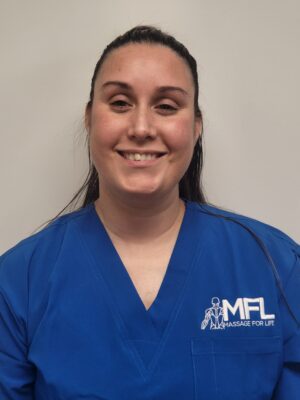 Jetaime Cintron, L.M.T.
Jetaime Marie Cintron, is a compassionate individual with over seven years experience as a NY Licensed Massage Therapist. Graduated from Academy of Massage Therapy and prior to that she received her Associates degree in Science & Liberal Arts at Mercy College, Dobbs Ferry NY.
Having come from the spa health and wellness world her modalities include several relaxation attributes like Swedish Massage techniques, Reflexology, other bodywork and spa techniques like Stone Massage and Body Treatments, Trigger Point Therapy, & Accupressure. Overtime she found a more therapeutic touch fit her most and was passionate about Sports Massage and enjoyed bringing in passive stretching to her massage as she built her knowledge in the field of Massage Therapy. While furthering her education, she took classes more in depth to Medical Massage and studied Myofascial Release, Decompression Therapy, and learned some techniques in Oncology Massage/Lymphatic Drainage.
Jetaime, as a therapist, has been told of her compassionate nature shining through therapy sessions and ultimately, she is fulfilled in helping her clients recieve the right care they need. She goes above and beyond to making people not only feel comfortable and relaxed with her but the goal is getting them back to complete health and healed. She cares that much.
While the human body in its extraordinary nature to heal itself, she understands that the more stretching, exercise we do for ourselves, and getting out in nature is wellness ro the mind, so is relaxation and rest.
Her home life includes enjoying time with family whether it be at home or outdoors. She enjoys nature walks with her husband and 4 year old daughter. Getting to know the adventures of being a new mom. Toddler life is all about learning new things, so its so much fun.